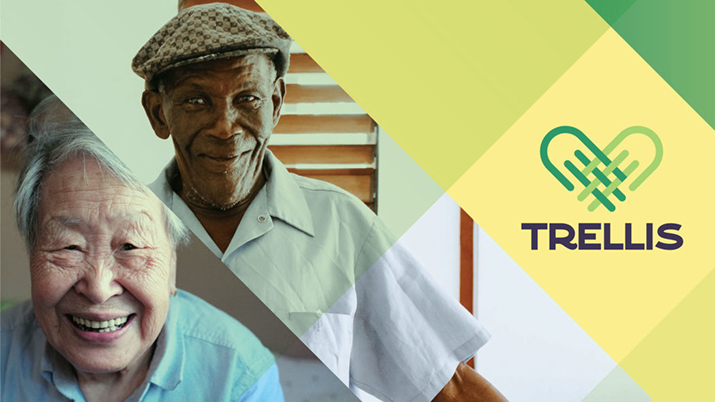 Trellis
NewFoundry's Trellis product concept is a finalist in the Vital Seniors Community Innovation Competition and the Vital Seniors People's Choice Award. Created by NewFoundry in partnership with NEW – Nonprofit Enterprise at Work, Trellis is a technology-based solution for enhancing quality of life for seniors while reducing workload and stress for caregivers and helping senior-serving organizations carry out their missions more efficiently.
Trellis is a connection hub for older adults, their caregivers, and the organizations that serve them. It breaks down obstacles for even the most vulnerable seniors in our community and makes technology accessible through the common telephone. With Trellis, seniors can pick up any phone, dial a number, and simply ask for what they need. Trellis handles everyday tasks such as making appointments, arranging for transportation and meal services, and more. It also provides helpful reminders for seniors to reconnect with loved ones, reducing isolation with the touch of a button.
Caregivers of older adults benefit from Trellis because it helps lighten workloads while reducing worry and burnout. Since Trellis provides so much help to older adults, caregivers spend less time taking care of routine tasks. A secure, HIPAA-compliant dashboard makes it easy to see daily activities and provide just the right level of support. Caregivers get instant notification of events that might require intervention, such as missed refills or incoming calls from suspicious phone numbers, bringing peace of mind.
Trellis helps senior-serving organizations in our community by reducing workload and streamlining operations. When an older adult uses Trellis to ask for something, the platform consults a secure, HIPAA-compliant database and the caller's profile information to decide how to route the call. The result is fewer misdirected calls and lower overall call volumes, which conserves resources for other high-touch, high-value needs. When a call does come in from a senior, Trellis provides a complete picture of the caller's situation and history, helping to zero in on the problem and provide help quickly and efficiently.
People's Choice voting took place from Oct 1-21, 2018. The Vital Seniors Selection Committee announced the two People's Choice Award winners and the recipients of four other awards, including the $500,000 Vital Seniors Grand Prize, on November 13.