Technology in The Limelight
At NewFoundry, we're always pushing to create engaging digital experiences for our clients and our own products. Recently, we had the chance to take on a fun and unique challenge: could we use technology to gain an edge in a dance competition? That competition was the Schools of Rock fundraiser organized by the Foundation for Saline Area Schools in Saline, MI.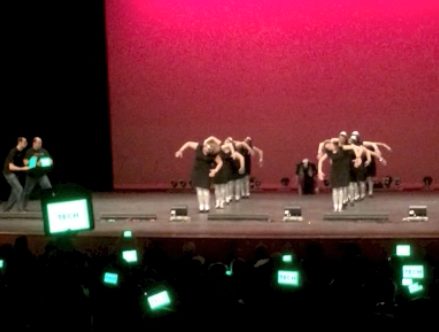 Schools of Rock is an intense event that has each school in the district put together a team of teachers to design and perform a 3-minute choreographed routine that gets the crowd on its feet. This year, they were judged by a panel including Miss Michigan Haley Williams, Saline Fire Chief Craig Hoeft, and choreographer and dance instructor Lindsey Biggs, of Dance Steps Studio and Season 4 of "So You Think You Can Dance" in Las Vegas.
NewFoundry set about designing an iOS app and supporting cloud infrastructure that would serve as a "second screen" to the Heritage Elementary School's performance. In a sold-out 1200-seat venue, we knew that if we could get enough of the audience members to participate, we could create quite an experience and take audience engagement to the next level.
The app used sophisticated synchronization algorithms to coordinate a visual spectacle timed to compliment the team's routine. This included simple visuals like colored text displays, flashing, and pulsing as well as sounds, fireworks, and interactive features like an applause meter and playable piano. There was plenty of engineering behind the scenes, too. A control console that monitored and controlled the experience had to be built. Synchronization of all the devices could be adjusted to better match the audio track (if needed) and the operator could monitor the synchronization with the mobile devices. Load testing and failure mode testing made us feel we could even handle the unlikely case of 1200 participants.
Its development was kept a total secret until the day of the performance! We hosted the app on a special website where anyone could download and install it without going through the App Store. Flyers with QR codes also guided the audience.
As the time of the show approached, the team worked frantically to run through pre-flight checks. We could see the devices flooding onto our servers and all systems were go. In the end, hundreds of devices lit up the auditorium perfectly synchronized to each other (at least within about 10-40 milliseconds of one another) and to the performance. It came down to a single prearranged signal from the sound booth and we were off!
Here's how it looked:
https://www.youtube.com/watch?v=Ghw8yVmy7Ng
You can read more:
https://thesalinepost.com/photo-gallery/technologic-heritage-staff-uses-apps-devices-and-audience-steal-show
The fundraiser supported the Next Generation Classrooms initiative from the Foundation for Saline Area Schools:
https://www.supportfsas.org/initiatives/strategic-grants/2013-14-classroom-of-the-future/