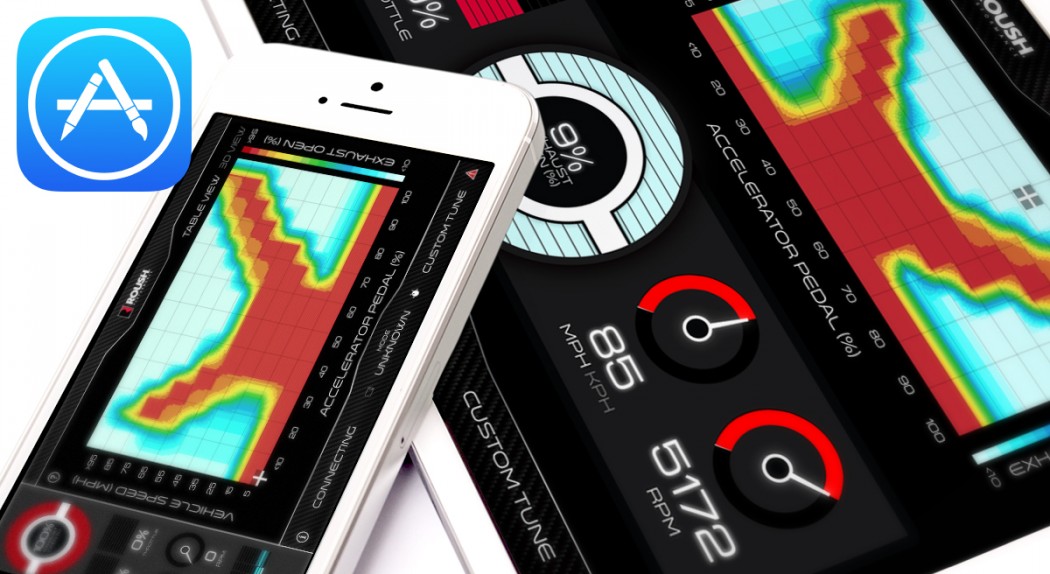 Roush Active Exhaust Mobile App Release
NewFoundry is the proud designer of the Active Exhaust mobile app released for iOS by Roush Performance last week. Forged by NewFoundry from the ground up, this challenge leveraged our unique blend of design, UX/UI, and embedded software engineering expertise to provide a unique, wireless interface between drivers and Roush's unique exhaust sound "tuning" product.
Active Exhaust first made waves when it appeared as a demonstration at SEMA in November 2014. Car & Driver later wrote about Active Exhaust as part of an introduction of Roush's Stage 3 Mustang. The story included this little gem of a quote that we have decided is our all-time favorite published commentary about one of our products:
"Custom mode allows you to program your own sound map from your smartphone or tablet. Which is supremely geeky but also kind of rad."
The app works by communicating with internal vehicle electronics via a wireless OBD-II interface. It provides an elegant, streaming display of vehicle speed, accelerator pedal position, ambient decibel levels, and throttle position in addition to the current state of the Active Exhaust system to allow the user to visualize the relationship between driving actions and exhaust sound. The app also allows power users to create their own custom tuning of the exhaust sound and save their tunings to the vehicle.
This week's consumer release of the app marks the next step in the product development partnership between NewFoundry and Roush Performance. "Today is a big milestone," remarked NewFoundry CTO, Chris Myers, "but I know that when it comes to fusing tech and performance, it's just the beginning of what's possible."
Find the Roush Active Exhaust app for both iPad and iPhone in the app store.