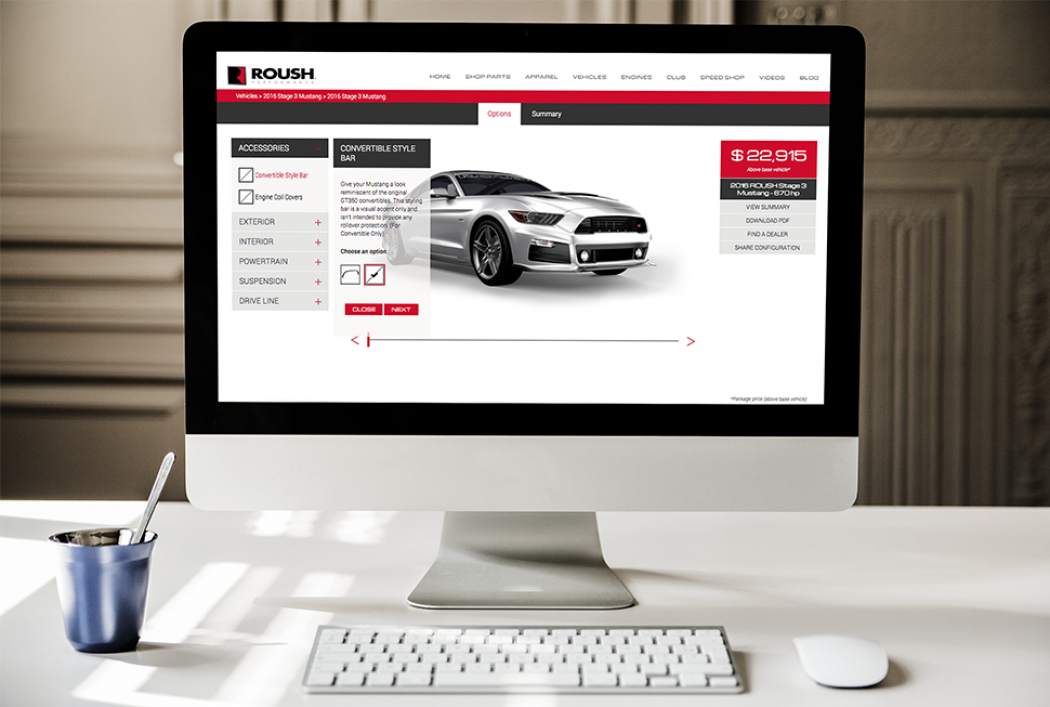 Roush: Vehicle Configurator Web App
The new wave of digital initiatives will be the earnest ones with a long-term vision of connecting the online with the offline. In the age of information overload, consumers need a reason to enter your digital ecosystem—whether it be a website, app, or social media pages. And brands need avenues to move forward in fast-evolving marketplaces. NewFoundry is always excited by the opportunity to forge said avenues for brands.
Roush Performance Products approached NewFoundry with a vision to create an engaging online vehicle configurator (i.e., build your own Roush) to foster a more immersive digital experience for users of their RPP website.
In NewFoundry modern-day blacksmith fashion, our team of designers, engineers, and strategists approached the challenge holistically, leveraging our automotive domain expertise, UX/UI design, and web application development talent throughout the process.
The vehicle configurator seamlessly allows visitors to select colors, core components, and various options, which individualize their Roush vehicle. The experience comes alive courtesy of 360-degree rotation capabilities, enabling the user to view the vehicle at whim from different vantage points. Upon configuring his or her ideal custom Roush vehicle, the user can easily share it with friends through social media or email, request dealer contact to answer questions and start the sales process, or download a PDF to bring along on a visit to the showroom.
The configurator showcases the Roush 2016 Stage 3 Mustang with more Roush vehicles on the roadmap.
With the new configurator, Roush Performance Products is well-positioned to make the digital experience a much larger part of their play and ensures that the online and offline truly complement one another.
Check out the Roush Performance vehicle configurator. And for those that don't plan on buying, it certainly is fun to dream!