Insights with the Interns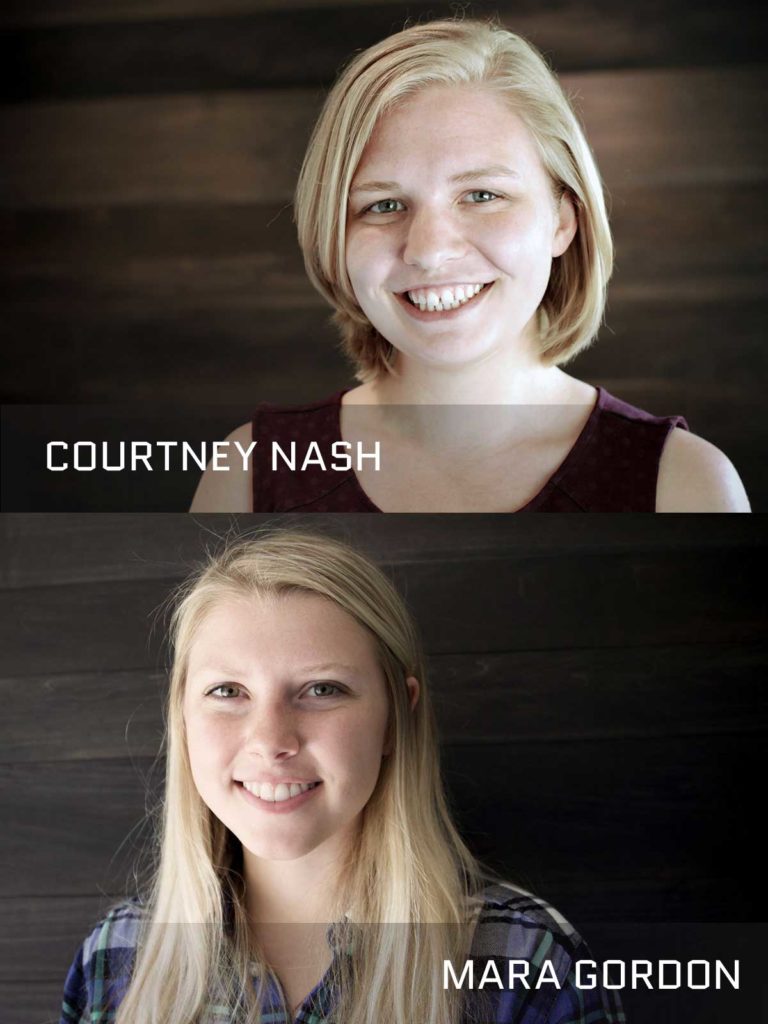 This summer NewFoundry was lucky to have University of Michigan students Mara Gordon and Courtney Nash with us as engineering interns. Before they returned to campus, we were able to sit down with them and get some insights into how they approached the internship and what they learned.
First off, what are you studying in school and – more importantly – why are you studying it?
Courtney: My major is Life Science Informatics. I'm interested in medicine and computer science, so it's a good cross between the two fields. I grew up with science and engineering in my house, and I've always been interested in medicine and making a difference in healthcare.
Mara: I am studying Computer Science Engineering. I wasn't sure what I wanted to study when I started college. I was in the engineering school because I thought I wanted to be a mechanical engineer, but I took a required computer science intro course and really enjoyed it. I continued taking computer science classes alongside mechanical engineering, and when it was time to pick my major, I realized I had more fun figuring out computer science problems than any other. I love the logic and challenge behind computer science tasks. We're  living in a digital age; every type of industry needs computer scientists, so there are many things you can do with the degree.
How did you learn about the internship at NewFoundry? What was your process finding a summer internship opportunity?
Courtney: I searched for companies in Ann Arbor related to computer science and found NewFoundry on a list of Michigan companies to watch. Rich responded to my email right away and I came in for an interview the following week!
Mara: I was looking at Startup Career Fair companies and visiting their websites. I saw one company that was partnered with a firm that was more than just a tech company. It was NewFoundry. I looked into it and they sounded exactly like what I was looking for. I emailed Rich Chang, the CEO, and he invited me in to see the office and talk about a possible internship. I then had an interview with Chris Myers, the CTO, who told me more about the computer science side of the company. After meeting with Rich and Chris, I was excited to start!

What expectations did you have for a summer internship?
Courtney: I wanted to work on a real-world project and gain experience in areas of computer science that I hadn't learned in class such as web and smartphone app development. I was hoping I would be able to get a better idea of what type of company or field of computer science I would be interested in working in after graduation.
Mara: I wanted to learn as much as possible. In class, we really only learn the basics and you learn so much more about what people actually use and do by working in a professional environment. So many things I learned this summer had never been mentioned in class. It was all brand new and exciting!
Did the internship change how you view your work? What you're interested in pursuing in the future?
Courtney: It did reinforce my decision to work in computer science. I like the ownership, freedom, and flexibility of working on computer science projects. I enjoyed the company culture at NewFoundry and being able to see the different sides of the business.
Mara: I learned about a whole different sphere of computer science. In class, I never really thought about how many companies or industries computer science touches, but you can really solve almost any problem with computer science. At NewFoundry, I learned about web and mobile app development. It was extremely different than anything I had done in class. I realized that programming is more than just sitting alone at a computer for hours. There's actually a lot of collaboration not only with other computer scientists, but with people in strategy, design, etc.
Both of you were really thrown into the fire this summer and had to contribute significantly to the products you worked on. Did you enjoy the challenge? What did you take away from it?
Courtney: I enjoyed the challenge and the chance to learn iOS and Android development. I widened my experience in different areas of computer science, learning new languages like Swift, Java, and Javascript, and working in smartphone app development. Not only did I pick up a lot of new programming skills, but I also feel much more comfortable and confident in approaching new languages and programs.
Mara: I enjoyed it. There were so many times where I had no idea what I was doing. Sometimes I was just searching code for key words. It was sort of like a puzzle with thousands of pieces. It was difficult, but fun and rewarding! I learned a lot about what a startup project looks like and how many different elements it takes to come up with a final product.
What advice would you have given to yourself at the start of undergrad, when maybe all you really knew about yourself was that you wanted to "get a degree"?
Courtney: I would say there are a lot of people that don't take the traditional path in college and change their minds. Don't be afraid to explore what you really want to do for your career. Also, take advantage of the opportunities in college to try different classes and student organizations – you never know when or where you might find something you really enjoy. I never thought I would like programming until I took my first computer science class.
Mara: Try everything and anything. Whether you want to take a computer science or philosophy class – do it. If you want to get involved in a certain club, go to a meeting and find out what it's really about.